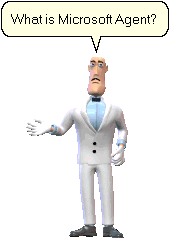 Microsoft® Agent is a software technology that enables an enriched form of user interaction that can make using and learning to use a computer, easier and more fun. Some of the uses for these captivating Microsoft Agent character presentations technologies include talking websites, interactive presentations, self-running demos, tutorials, tour guides, clipboard, website and document file readers, and other things for just plain old fun. For kids too offcourse!

The-Bible-Truth.com is set for use with the Microsoft Agent characters Peedy, James and Robby. Peedy is probably not ideal for reading web pages as he sounds a bit squawky being one our fine feathered friends and Robby sounds a bit metallic. James is therefore recommended for reading. Once you have all the necessary components installed, (see below) you can select one of the characters below to reload an alternate frames index link, which will activate one or more of the installed characters. If you do not load the characters first, it is more then likely that Microsoft Agent will load the next closest character which is often there by default. This will most likely be Merlin the wizard, which is not exactly what I call ideal for a Christian website. There is probably more than 100 hundred characters available now from different sources and if anyone has a preference, I would certainly consider adding in the option for another character. Please send us your request from the "Contact Us" link at the top of the screen. If any type of problems, bugs or other issues are found, please use the same link to notify us of the problem. All correspondence received will be taken seriously and dealt with promptly.
Once installed you can right click the character to select options from the menu such as reading the current web page or the selected text. They can also search the Web, search the Bible, read a document, tell you a story, challenge you to a tongue twister, tell you a joke or sing you a song just for fun. The best use for these characters here though, is to have them read documents to you while you do other things. If you install James and Peedy, you can watch them interact and talk to each other. (Very amusing and worth the effort.)
The Final steps. After installing all the required files (see below), select the character(s) you want to use by clicking on their image. Unless you have already installed them from this page, after the index page reloads you will be prompted to install Balloon Dialog which will also prompt to make sure your Visual Basic is up to date. If you have Windows XP, no change will be made to Visual Basic and Balloon Dialog is a very quick download and install at only (110k). Nothing will function correctly, including menus until Balloon Dialog is installed. This software allows more user interaction and options which I am sure you will enjoy. The files used are licensed by Microsoft and are safe to install.
| | | | |
| --- | --- | --- | --- |
| Peedy the Parrot | James the Butler | Robby the Robot | Peedy and James |
| | | | |
Note: these may not work on versions of windows later than XP. To use any of these characters you will need extra Microsoft options installed. See the table below for what you already have installed. If there are missing options then select the appropriate link below to download and install the required components.
You make like to install some of these Optional Components as well.
Speech recognition engines:
Speech recognition engines provide speech input capabilities for Microsoft Agent. At this time Microsoft provides a single U.S. English speech recognition engine for use with Microsoft Agent. To use this engine you should have a Pentium 120-MHz PC (or faster). Click the link below to download this speech engine.
Download the Microsoft® Speech Recognition Engine (6 MB exe)
Speech control panel:
The Speech Control Panel enables you to list the compatible speech recognition and text-to-speech engines installed on your system and to view and customize their settings for your use. When you install the file, it adds a speech icon to your Control Panel that you can open. Note that this application will only install on Windows® 95, Windows 98, Windows NT® 4.0, and Windows 2000 systems.
Download the Speech Control Panel (927 KB exe)
Ideally you should go to the Microsoft download page to get these components where other languages are available also. From this link you can find out more information about Microsoft Agent and download what is required directly if you wish.